If you don't bother to get very clean and long read of your cloned DNA, you may consider our Direct Colony Sequencing (DCS). No plasmid extraction or rolling circle amplification is required.
If your plasmid DNA is from single colony, visible at the size of 1 mm x 6 mm on agar, we can directly sequence the inserted DNA with your vector sequencing primer. Although this compromises the read length (up to 700 bases), but the fast turnaround time worth of this consideration. High copy plasmid DNA has higher successful rate with our DCS, merely because the provided colony size has higher amount of inserted DNA for direct sequencing.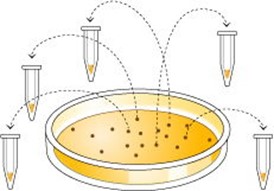 Each single colony + 1 vector sequencing primer = 1 Direct Colony Sequencing reaction
Online Ordering
1st BASE Online Ordering, 1oo (strongly recommended)
1st BASE Order Online simple as 1-2-3.
Try it now! It is amazingly easy to use and hassle-free!
To find out more about how to use 1oo, please click here.
---
Email Ordering
Download and complete the 1st BASE DNA Sequencing Order Form (under Downloads tab) with your order requirements.
Email the form to our email address below:
Singapore
Email: sequencing@axilscientific.com
Tel: +65 6775 7318
Malaysia / International
Email: sequencing@apicalscientific.com
Tel: +603 8943 3252
For customers who ship or courier us the orders directly, please indicate your airway bill number or courier tracking number in your Online Order or email to ensure speedy processing of your orders.

Confidentiality
All sequences and reports will be kept confidential. Non-disclosure agreement is available upon request.

Click below for Guides on Preparations and Requirements
| | | | |
| --- | --- | --- | --- |
| | Singapore | Malaysia | International |
| Order Forms* | | | |
*Please enable the Macro function in Microsoft Office Excel.
The following is the list of complimentary Universal Primers offered by our DNA Sequencing facility.
| | |
| --- | --- |
| Universal Primers | Sequence (5' - 3') |
| 1492R | 5' TACGGYTACCTTGTTACGACTT 3' |
| 27F | 5' AGAGTTTGATCMTGGCTCAG 3' |
| 35S-A | 5' AAGGGTCTTGCGAAGGATAG 3' |
| 35S-B | 5' AGTGGAAAAGGAAGGTGGCT 3' |
| 518F | 5' CCAGCAGCCGCGGTAATACG 3' |
| 800R | 5' TACCAGGGTATCTAATCC 3' |
| AD Reverse | 5' AGATGGTGCACGATGCACAG 3' |
| a-Factor | 5' TACTATTGCCAGCATTGCTGC 3' |
| AOX1 Forward | 5' GACTGGTTCCAATTGACAAGC 3' |
| AOX1 Reverse | 5' GCAAATGGCATTCTGACATCC 3' |
| BGH-R | 5' TAGAAGGCACAGTCGAGG 3' |
| Bluescript KS | 5' TCGAGGTCGACGGTATC 3' |
| Bluescript SK | 5' CGCTCTAGAACTAGTGGATC 3' |
| CMV-F | 5' CGCAAATGGGCGGTAGGCGTG 3' |
| CMV-profor | 5' ATGGGCGGTAGGCGTG 3' |
| CYC1 Reverse | 5' GCGTGAATGTAAGCGTGAC 3' |
| DsRed1-C | 5' AGCTGGACATCACCTCCCACAACG 3' |
| DsRed1-N | 5' GTACTGGAACTGGGGGGACAG 3' |
| EBV-RP | 5' GTGGTTTGTCCAAACTCATC 3' |
| EGFP-C | 5' CATGGTCCTGCTGGAGTTCGTG 3' |
| EGFP-CF | 5' AGCACCCAGTCCGCCCTGAGC 3' |
| EGFP-CR | 5' CGTCCATGCCGAGAGTG 3' |
| EGFP-N | 5' CGTCGCCGTCCAGCTCGACCAG 3' |
| EGFP-NR | 5' CGTCGCCGTCCAGCTC 3' |
| GAL1 Forward | 5' AATATACCTCTATACTTTAACGTC 3' |
| Gal4AD | 5' TACCACTACAATGGATG 3' |
| GLprimer1 | 5' TGTATCTTATGGTACTGTAACTG 3' |
| GLprimer2 | 5' CTTTATGTTTTTGGCGTCTTCCA 3' |
| HCO2198 | 5' TAAACTTCAGGGTGACCAAAAAATCA 3' |
| hU6-F Primer | 5'-GAGGGCCTATTTCCCATGATT-3' |
| ITS1 | 5' TCCGTAGGTGAACCTGCGG 3' |
| ITS2 | 5' GCTGCGTTCTTCATCGATGC 3' |
| ITS3 | 5' GCATCGATGAAGAACGCAGC 3' |
| ITS4 | 5' TCCTCCGCTTATTGATATGC 3' |
| ITS5 | 5' GGAAGTAAAAGTCGTAACAAGG 3' |
| KAN2-FP | 5' ACCTACAACAAAGCTCTCATCAACC 3' |
| KAN2-RP | 5' GCAATGTAACATCAGAGATTTTGAG 3' |
| LCO1490 | 5' GGTCAACAAATCATAAAGATATTGG 3' |
| LpJET1.2F | 5' CTGCTTTAACACTTGTGCCTGA 3' |
| LpJET1.2R | 5' TTCCTGATGAGGTGGTTAGCAT 3' |
| M13F (-20) | 5' GTAAAACGACGGCCAGT 3' |
| M13F (-29) | 5' CACGACGTTGTAAAACGAC 3' |
| M13-FP | 5' TGTAAAACGACGGCCAGT 3' |
| M13F-pUC(-40) | 5' GTTTTCCCAGTCACGAC 3' |
| M13R (-20) | 5' GCGGATAACAATTTCACACAGG 3' |
| M13R (-24) | 5' GGAAACAGCTATGACCATG 3' |
| M13R-pUC (-26) | 5' CAGGAAACAGCTATGAC 3' |
| MT Forward | 5' CATCTCAGTGCAACTAAA 3' |
| pBacPAC-RP | 5' GTCTGTAAATCAACAACGC 3' |
| pBAD-F | 5' ATGCCATAGCATTTTTATCCA 3' |
| pBAD-FP | 5' ATGCCATAGCATTTTTATCC 3' |
| pBAD-R | 5' GATTTAATCTGTATCAGG 3' |
| pBRrevBam | 5' GGTGATGTCGGCGATATAGG 3' |
| pDONOR-FP | 5' TAACGCTAGCATGGATCTC 3' |
| pEGFP_N | 5' CCGTCCAGCTCGACCAG 3' |
| pEGFP-FP | 5' TTTAGTGAACCGTCAGATC 3' |
| pEGFP-RP | 5' AACAGCTCCTCGCCCTTG 3' |
| pESP-RP | 5' TCCAAAAGAAGTCGAGTGG 3' |
| pET-24a | 5' GGGTTATGCTAGTTATTGCTCAG 3' |
| pET-RP | 5' CTAGTTATTGCTCAGCGG 3' |
| pFastBac Forward | 5' GGATTATTCATACCGTCCCA 3' |
| pFastBac Reverse | 5' CAAATGTGGTATGGCTGATT 3' |
| pGEX3 | 5' GGAGCTGCATGTGTCAGAGG 3' |
| pGEX5 | 5' GGCAAGCCACGTTTGGTG 3' |
| pJET1.2F | 5' CGACTCACTATAGGGAGAGCGGC 3' |
| pJET1.2R | 5' AAGAACATCGATTTTCCATGGCAG 3' |
| pMalE | 5' TCAGACTGTCGATGAAGC 3' |
| pQE-F | 5' CCCGAAAAGTGCCACCTG 3' |
| pQE-R | 5' GTTCTGAGGTCATTACTGG 3' |
| pREP-fwd | 5' GCTCGATACAATAAACGCC 3' |
| pRH Forward | 5' CTGTCTCTATACTCCCCTATAG 3' |
| pRH Reverse | 5' CAAAATTCAATAGTTACTATCGC 3' |
| pTrcHis Forward | 5' GAGGTATATATTAATGTATCG 3' |
| QE Promoter | 5' CCGAAAAGTGCCACCTG 3' |
| RVprimer3 | 5' CTAGCAAAATAGGCTGTCCC 3' |
| RVprimer4 | 5' GACGATAGTCATGCCCCGCG 3' |
| SP6 | 5' ATTTAGGTGACACTATAG 3' |
| STag 18mer Primer | 5' GAACGCCAGCACATGGAC 3' |
| SV40-pArev | 5' CCTCTACAAATGTGGTATGG 3' |
| SV40-Promoter | 5' GCCCCTAACTCCGCCCATCC 3' |
| T3 | 5' ATTAACCCTCACTAAAG 3' |
| T7 | 5' AATACGACTCACTATAG 3' |
| T7 EEV | 5' ATGTCGTAATAACCCCGCCCCG 3' |
| T7promoter | 5' TAATACGACTCACTATAGGG 3' |
| T7terminator | 5' GCTAGTTATTGCTCAGCGG 3' |
| U-19mer Primer | 5' GTTTTCCCAGTCACGACGT 3' |
| U6 Primer | 5'-GGGCAGGAAGAGGGCCTAT-3' |
| SP6Long | 5'-ATTTAGGTGACACTATAGAATAC-3' |
| T7Long | 5'-GTAATACGACTCACTATAGGGC-3' |
| LpJet1_2F | 5' CTGCTTTAACACTTGTGCCTGA 3' |
| LpJet1_2R | 5' TTCCTGATGAGGTGGTTAGCAT 3' |
| 785F | 5' GGATTAGATACCCTGGTA 3' |
| 907R | 5' CCGTCAATTCMTTTRAGTTT 3' |