Save the hassle of preparing purified DNA for sequencing and leave your unpurified samples to us. We will do the purification and deliver the best quality results to you.
Whatever sample type you have, we can work with it!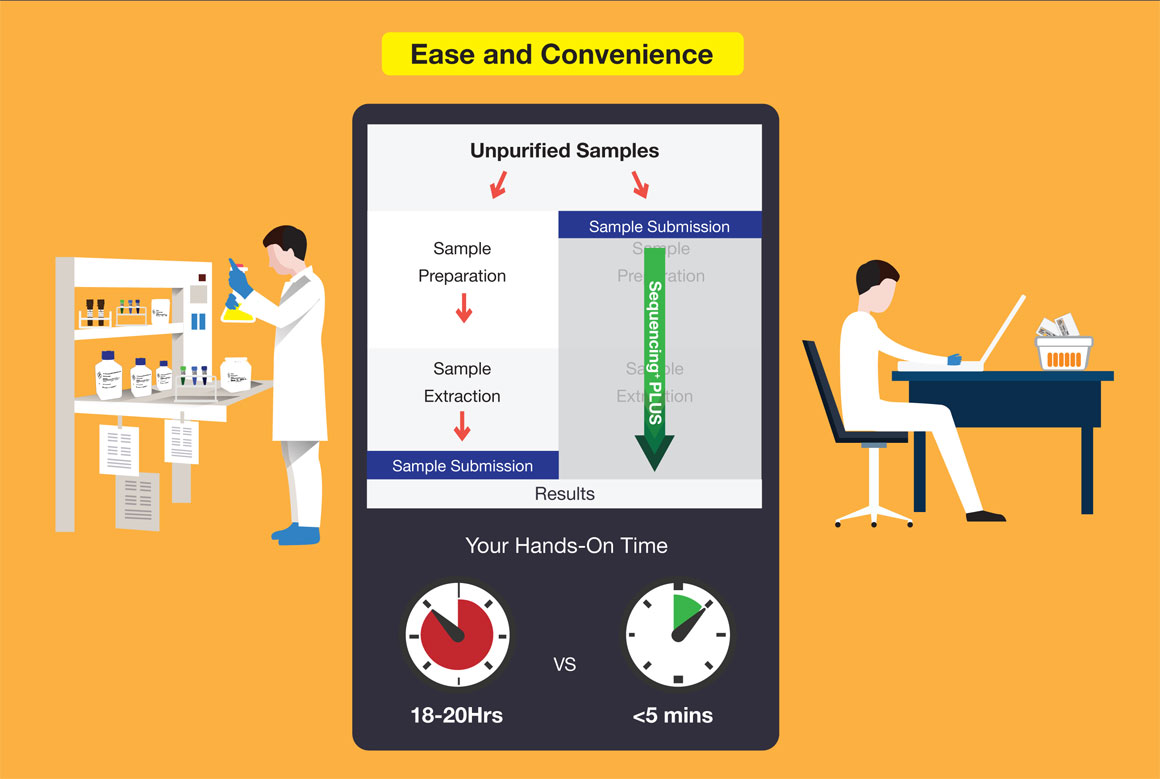 Sample requirement
Template

PCR Products

Plasmid*

Sample Type

Unpurified PCR

Plate Culture/ Cut agar

Stab/slant Culture

Broth Culture

Glycerol Stock

Requirement

20ul of unpurified PCR product; excised gel band (<250mg)

Less than 1mth

Less than 1mth

Bacteria pellet; 5ml for high copy; 10ml for low copy

 

 

Please check with us for more information! 
Turnaround Time
The turnaround time for Sequencing+ PLUS is 48 hours.
How to Order
1. 1st BASE Online Ordering, 1oo
Place your orders using your online account at https://order.base-asia.com.
Click here for instructions on how to order via 1oo.
2. Email your order to sequencing@axilscientific.com using the 1st BASE DNA Sequencing Order Form.
Download our DNA Sequencing Order Form and complete the excel file with your order requirements.
**Please enable the Macro function in Microsoft Office Excel.
Click here for instructions on how to order via email.
For more information, you may contact us at sequencing@axilscientific.com or +65 67757318.
 

What are our other services:
------------------------------------------------------------------------------------------------
UPCOMING
Direct Colony Sequencing
Are you involved in large-scale plasmid screening project? With Direct Colony Sequencing, you can obtain quality sequencing result directly from the colonies, without the hassle of growing the culture and doing the miniprep. Explore the most
cost efficient
and
labour
saving option for your plasmid screening needs!