Sequencing+ PLUS
Sequencing+ PLUS is an all-in-one service which enables fast and quality sequencing of your unpurified samples!
1st BASE accepts different unpurified sample type and provide DNA template purification as the first step to delivering you clean, long reads of your gene of interest. 
Sequencing+ PLUS for Unpurified PCR Product
1st BASE Sequencing+ PLUS service allows you to submit PCR products directly off the cycler, saving you the hassle and cost of PCR purification. You can also verify your PCR run on a gel and send in the cut gels for sequencing. Sequencing+ PLUS provide you with convenience, clean reads and fast turnaround time. 
Sequencing+ PLUS Sample Requirements
Sample Type

General Guideline

Unpurified PCR Products

20ul

 

In 1.5ml tube /plate

Excised Gel Band

<250mg

 

In 1.5ml tube
Type of Primer

Required Concentration

Total of Reaction

Required Volume

Sequencing Primer

18 to 25 bases
GC content: 40% to 60%
Tm = 55°C to 60°C
No significant hairpins (>3bp) and homodimerization
Desalted Primer (Brand: IDT) or Purified Primer (other Manufacturer)

10µM or 10pmol/µL or 50ng/uL

1

10uL

10

25uL

20

50uL
Sequencing+ PLUS for Plasmid (SG Local Customers)
1st BASE also accepts bacteria culture* for Sequencing+ PLUS service. Send in the cultured broth samples and cell pellet for a fuss free and prompt service, with clean reads >1100bp. Samples which require culturing at our facilities are acceptable as well but might be subjected to a slightly longer turnaround time.
For samples that require culturing at our facilities, we recommend you to submit your order latest by Wednesday evening of each week.
*Only vector host by E Coli with Amp/Kanamycin resistance are accepted at our facilities for bacteria culture submission.
Sequencing+ PLUS Sample Requirements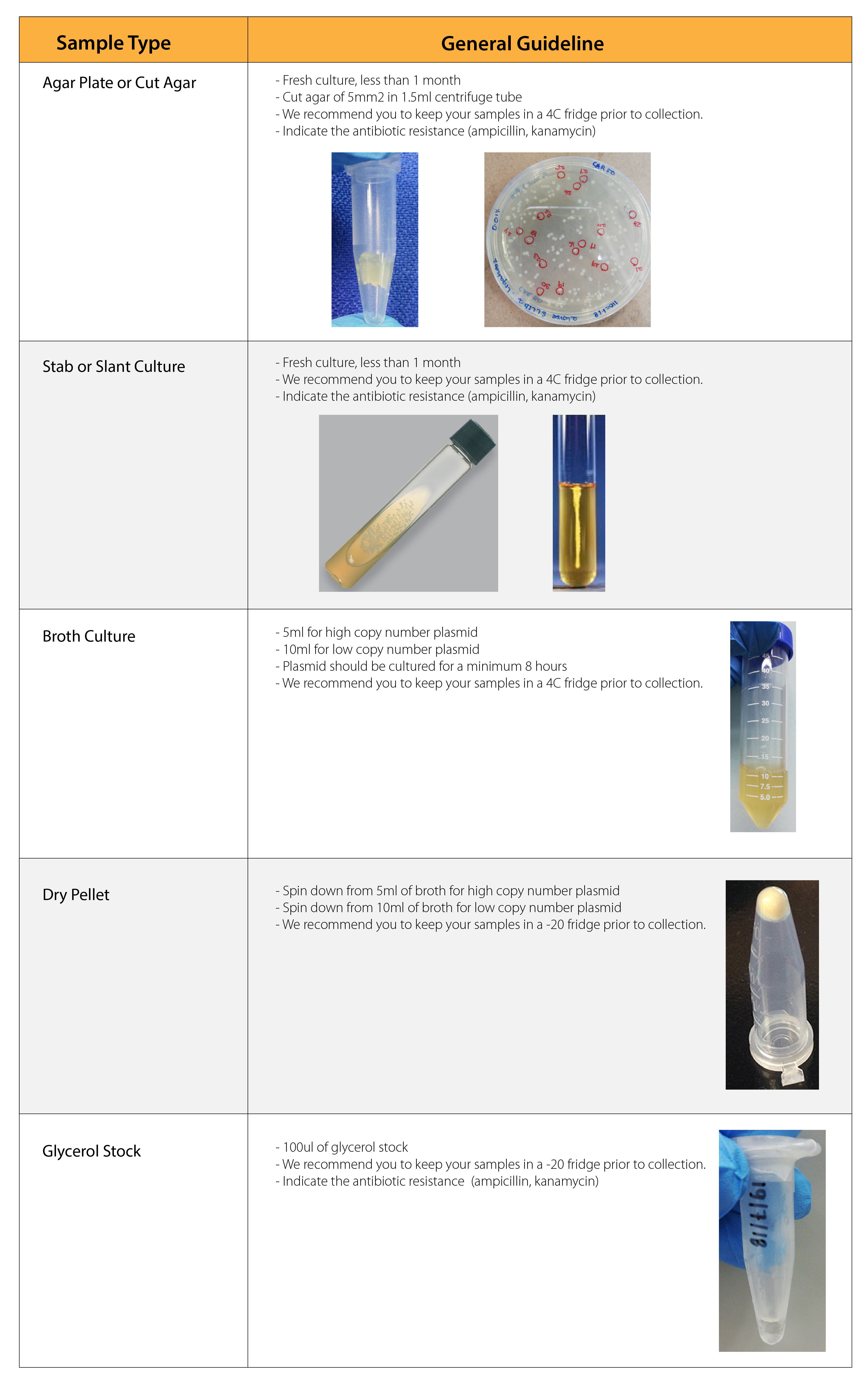 How to Order
1st BASE Online Ordering, 1oo
Place your orders using your online account at https://order.base-asia.com in 3 easy stpes
Log in to your 1st BASE Online Ordering Account
Select New Order – Sequencing+ PLUS service
Fill in the order information and submit your order
Complete 1st BASE DNA Sequencing Order Form and email it to our sequencing team at
Limited Time Promotion for Singapore Local Customers!! Contact Axil Scientific today!