1X Dulbecco's Phosphate Buffered Saline (DPBS)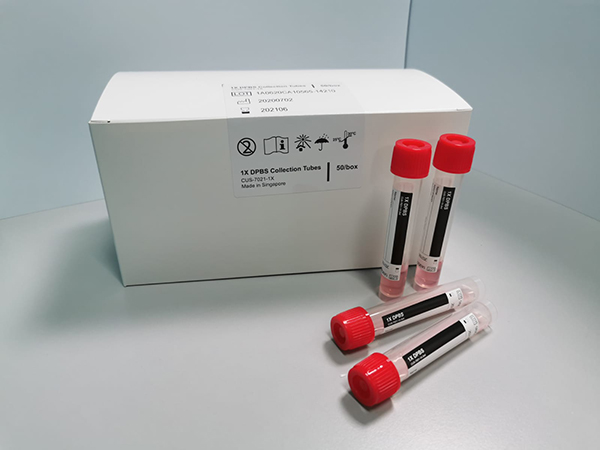 A shortage of coronavirus testing supplies is creating a bottleneck for patients needing to be tested globally. These supplies include the Viral Transport Medium (VTM) or Universal Transport Medium (UTM).
1st BASE is ramping up the manufacturing of Dulbecco's Phosphate Buffered Saline (#DPBS), an alternative to VTM/UTM, to support these shortages.
Dulbecco's Phosphate Buffered Saline (DPBS) is a water-based salt solution with a specific formulation that is able to maintain the genetic information of the virus prior to testing.
Product Information
| | | |
| --- | --- | --- |
| Product Code  | : | CUS-7021-1X |
| Identifier  | : | 1X Dulbecco's Phosphate Buffered Saline (DPBS) |
| Grade | : | Biotechnology |
| Formulation | : | Contains 137mM Sodium Chloride, 2.7mM Potassium Chloride, 8.1mM Sodium Phosphate, Dibasic and 1.5mM Potassium Phosphate, Monobasic at 1X concentration. |
| Storage Condition | :  | Store at room temperature (25°C - 30°C).  |
Intended Use
Designed for collection, transportation and short-time storage of clinical specimen, total DNA/RNA of saliva, blood, serum, stool and body fluid, etc. The stored samples can be used in subsequent clinical experiments such as DNA/RNA extraction, PCR testing or sequencing.
Instructions for Use
The 1X DPBS is suitable for the transfer of various types of viruses. Use the 1X DPBS as it is most suitable for your application.
Collect the sample (e.g. using a swab) according to the procedures defined by internal policies.

Place the sample in the tube with the 1X DPBS and transfer the tube for further testing.
Precautions and Disclaimer
For transport of specimens only. Not to be taken internally.
The 1X DPBS is not intended for therapeutic use.
| | |
| --- | --- |
| Product No | CUS-7021-1X |
| Product Description | 1X Dulbecco's Phosphate Buffered Saline (DPBS) |
| Product Specification Sheet | Download |
| Safety Data Sheet | Download |
How to Order
For ordering or queries, please contact us as follow:
Singapore
Email: custcare@axilscientific.com
Tel: +65 6775 7318
Malaysia / International
Email: custcare@apicalscientific.com
Tel: +603 8943 3252