Superior Yield & Robust Amplification

of DNA Fragments Up to 10kb
DNA Fragments across different targets from a human genomic DNA were amplified with exTEN 2X PCR Master Mix and other commercial polymerases. In comparison to the other polymerases, amplification of target at 13.6kb and beyond with exTEN is still achievable with superior yield.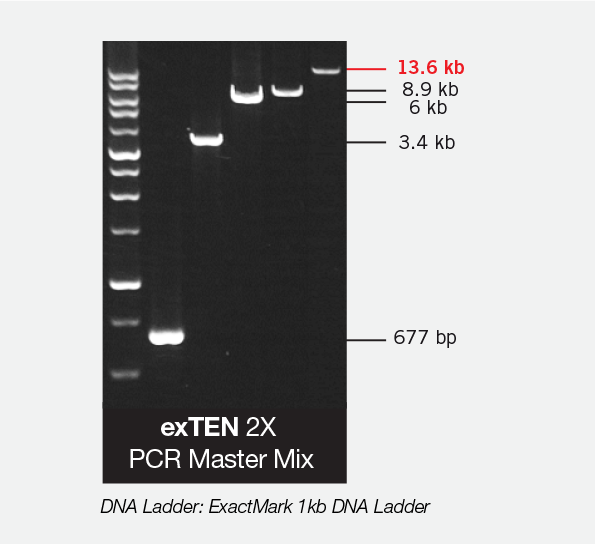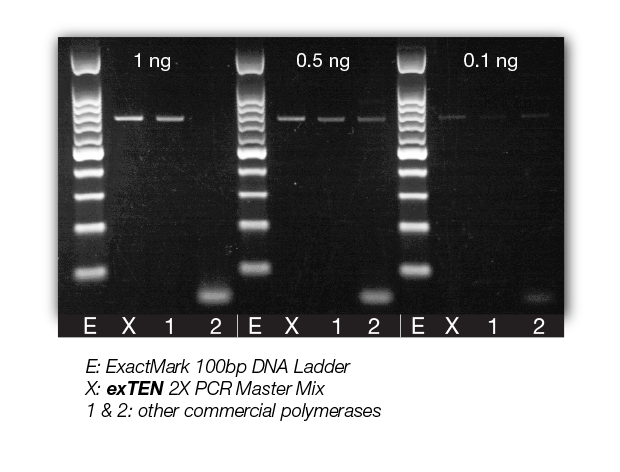 Better Sensitivity Achieved

even in Low Concentration of DNA Template
Amplification of a 677bp fragment from human genomic DNA on different amount of DNA templates starting from 1ng to 0.1ng is shown above. exTEN produces better results in terms of sensitivity among the other polymerases.
Convenient & Ease of Handling

- Shortened Preparation Time
exTEN is a premix containing all necessary components including MgCl2, buffer, loading dyes & dNTPs in a single tube. It only requires addition of template, primers and water prior to PCR cycling. Direct loading of PCR products on to gel is performed without any additional steps thereafter.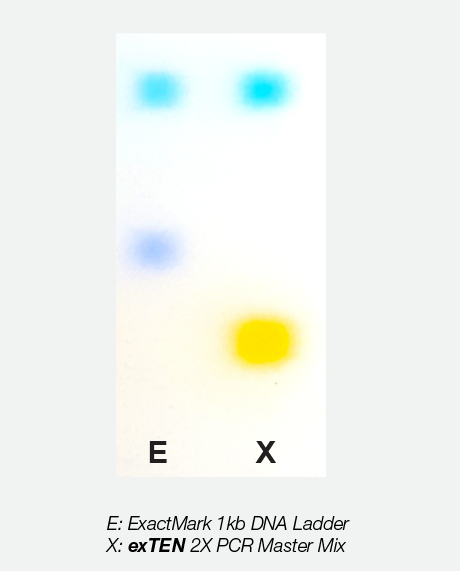 Product Code
BIO-5186-200
BIO-5186-1000
Product
exTEN 2X PCR Master Mix
Size/Application
200 rxns
1000 rxns
Online Ordering
1st BASE Online Ordering, 1oo (strongly recommended)
1st BASE Order Online simple as 1-2-3.
Try it now! It is amazingly easy to use and hassle-free!
To find out more about how to use 1oo, please click here.
---

How to Order
For ordering or queries, please contact us as follow:
Singapore
Email: custcare@axilscientific.com
Tel: +65 6775 7318
Malaysia / International
Email: custcare@apicalscientific.com
Tel: +603 8943 3252
What our Customers say about our exTEN 2X PCR Master Mix:
"I have been using KAPA Taq Polymerase for our mice genotyping needs. We have tried multiple different PCR mixes and found that KAPA (with an additional MgCl2) meets our requirements the closest as our mice differs in genotype based on one SNP which other polymerases were not able to pick up. However, after using exTen, our bands are much more distinct than with the KAPA, thus allowing us to determine the genotype more efficiently and at a lower cost. Prior to utilizing KAPA and exTen, multiple other PCR master mixes were used to test out and KAPA provided the best results at the point of testing until exTen came into play and outshone KAPA."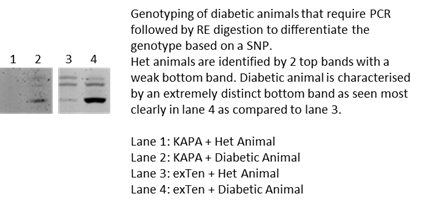 Vanessa Tay
Lee Kong Chian School of Medicine,
National University of Singapore
---
"exTEN 2X PCR Master Mix is the best PCR mix I have ever used. This PCR mix only require primers and template (water when necessary) and could be loaded into DNA gel directly after PCR amplification. This exTEN 2X PCR Master Mix give me a higher amplification yield than the Taq 2X Master Mix (NEB) in my experiment (low concentration DNA template condition). I will continue using it in my following PCR experiments."
Yang Yi
National University Singapore
---
"The exTEN 2x PCR Master Mix works very well for our cyanobacterial colony PCR. Some of our constructs are quite large and that had made it hard for us to check if they were correctly inserted in the genome. However, when using the exTEN mix all strains give nice, strong bands. We have now switched to using exTEN for all our long amplification PCRs - it works!"
Tiago Selao
School of Biological Sciences,
Nanyang Technology University
---
Product No.

Description

Size/Application

BIO-5115-500U

REDiant Taq DNA Polymerase (recombinant) - MgCl2separate, 500U

500U

BIO-5185-200

BIO-5185-1000

200 rxns

1000 rxns

BIO-5130-50ug

BIO-5130-100ug

~100 appl.

~200 appl.

BIO-5140-50ug

BIO-5140-100ug

BIO-5140-200ug

~100 appl.

~200 appl.

~500 appl.

BIO-5170-1ml

~200 appl.

BIO-1000-100g/500g/1kg

-

BIO-5171-600ul

~200 applications (based on precasting method)

BIO-5172-600ul

~200 applications (based on precasting method)