As the COVID-19 virus continues to spread, communities across the globe are struggling to keep up with the demand for public testing but also research discoveries pertaining to Sars-CoV-2.
The need is urgent and 1st BASE is here to assist you with them.
Browse through for the available solutions for COVID-19 from 1st BASE.
1st BASE Sanger Sequencing provides the required information to distinguish COVID-19 from other respiratory pathogens and in identifying new mutations within the genes.

Get in touch with us for your sequencing requirements!

Priority Sequencing

High-quality sequencing

Tap on our expertise with sound technical support
M13-Tailed Sequencing (SS1101)
* Complementary PCR optimization
Sample type: Unpurified qPCR product
Consistent sequencing results for COVID-19 qPCR amplicons.

Includes quantification of templates, M13-tail PCR, PCR product purification, Bi-directional sequencing, and alignment to reference sequence.
Single Pass DNA Sequencing(SS1001, SS1002)
Sample type: Purified PCR product / Plasmid
DNA sequencing reaction encompasses the cycle sequencing reactions, dye terminator removal and subsequent analysis on our Genetic Analyzers.
Sequencing+ PLUS (SS1201)
Sample type: Unpurified PCR product / Excised Gel Band
All-in-one service.

Includes purification / gel extraction, and Single Pass DNA Sequencing.
Custom Manufacturing of Biochemicals, Buffers & Reagents
Apart from our extensive list of ready-to-use buffers and media, 1st BASE is also open to customization of project/products, from packaging size to formulation and testing, tailored to your needs.
Get in touch with us for your custom request!
1st BASE Viral Transport Medium (VTM)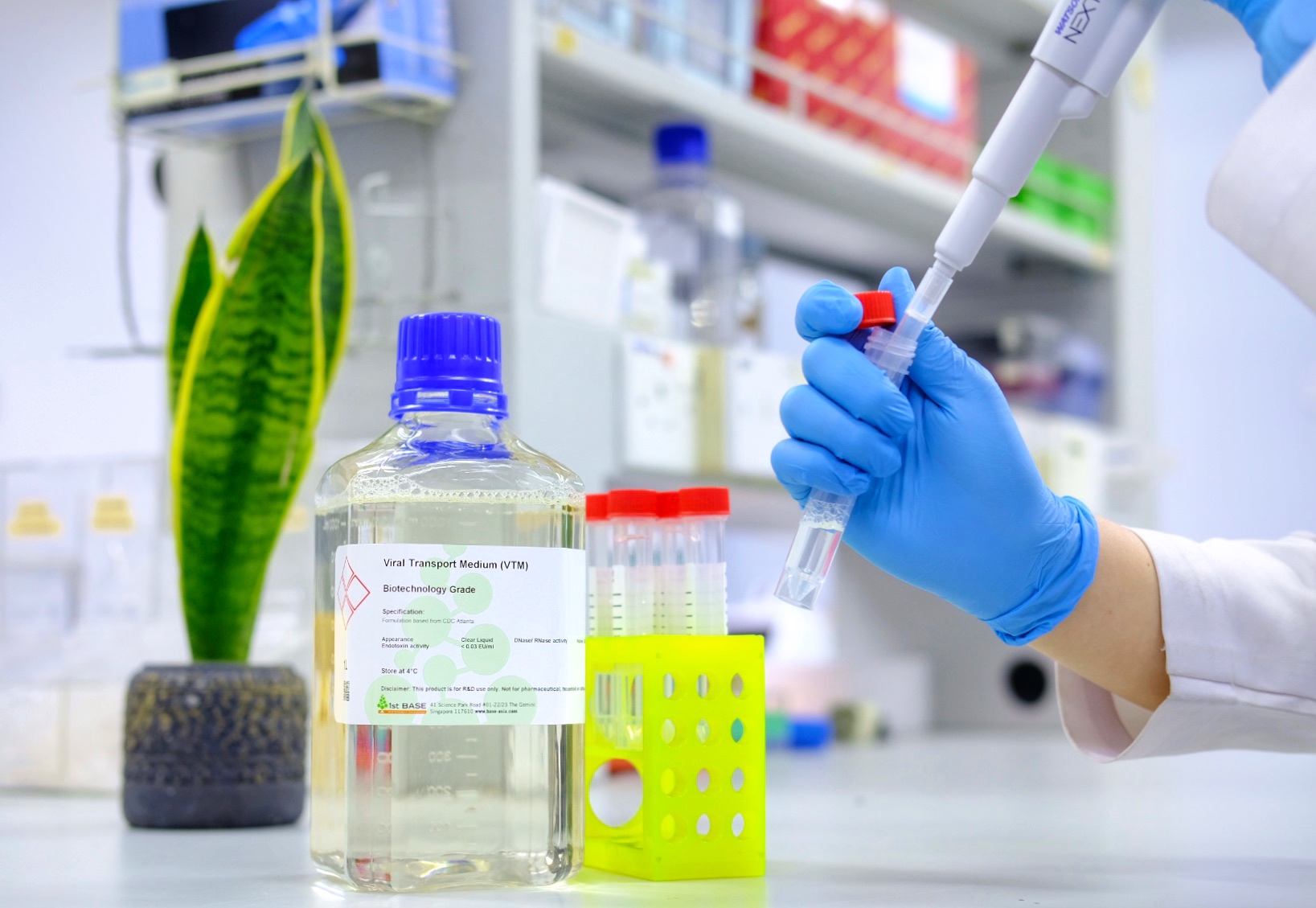 Viral Transport Medium (VTM) is a pH-buffered fluid with a specific formulation of salts, protein and other chemicals that can maintain the genetic information of the virus prior testing.
1st BASE VTM is formulated based on CDC Atlanta standards. 
Product Code

Item Description

Storage

PKG Size

CUS-7020-1L

Viral   Transport  Media  (VTM),

Biotechnology Grade.

4°C

1L

CUS-7020-4L

4L
1st BASE Viral DNA/RNA Extraction Kit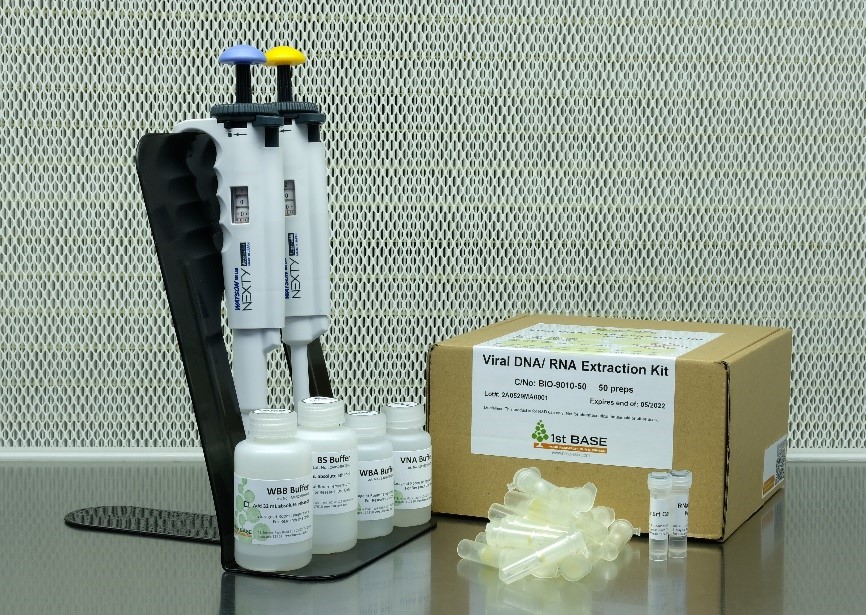 The kit allows for enhanced extraction of viral DNA/RNA (nucleic acid) from serum, plasma, body fluids, cell culture supernatant and viral transport medium swabs. This is a column-based extraction method that utilizes silica membrane spin column technology where the procedure involves lysis of viral cells, optimum binding of viral nucleic acid onto the silica membrane, washing and finally eluting viral nucleic acid from the silica membrane. The end-user is able to purify their viral DNA/RNA in less than 30 minutes. Product insert as attached.
A special feature of our kit is that it includes an inert carrier [poly-A] powder which enhances the binding of viral nucleic acid onto the silica membrane to improve its binding efficiency. It is an ideal kit to isolate low viral copies from 201 to 207 copies of viral nucleic acid. The purified viral nucleic acid is optimum for RT-PCR and qRT-PCR applications.
| | | | |
| --- | --- | --- | --- |
| Product Code | Item Description | Storage | PKG Size |
| BIO-9010-50 | Viral DNA/RNA Extraction Kit | RT | 50 preps/kit |
1st BASE 2019-nCoV Plasmid Positive Controls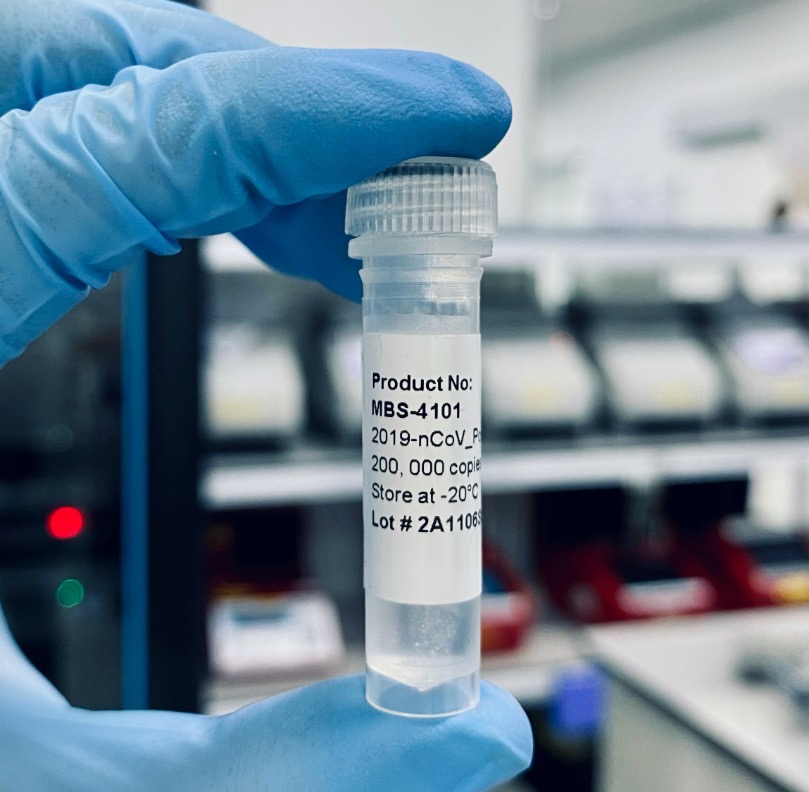 The 2019-nCoV Plasmid Positive Controls are packaged for 500µL (200,000 copies/µL) in IDTE pH 8.0. This control will be ideal to existing COVID-19 screening users that are working on the E Sarbeco and RdRP genes. Each tube is sufficient for 2,500 duplicate reactions.
The product comes with one circular plasmid DNA, which contains partial sequences of 2019-nCoV E Sarbeco gene, RdRP gene and RNAse P gene.
As compared to our first version of positive control (Product No: MBS-4100) that was designed solely to be the positive control in Charité/Berlin qPCR protocol (version 17th Jan 2020), the version 2 of positive control includes new fragments of RdRP Helicase and human RNAse P for qPCR detection assay according to Chan JF-W et al., 2020 and CDC assays for SARS-CoV-2 detection respectively. Human RNAse P gene is regularly used as internal control (IC) for qPCR assay of SARS-CoV-2 detection.
Furthermore, we have introduced a pair of modified qPCR primers (Product No: CV013 and CV014) to detect RdRP gene using the same RdRP P2 probe in Charité/Berlin protocol. This resolves the assay sensitivity to better distinguish the signal between NTC and RdRP gene.
Product Code
Item Description
Manual or Protocol
Product Specification Sheet
Safety Data Sheet

MBS-4100

2019-nCoV_E_RdRp Positive Control

Discontinued

MBS-4101

2019-nCoV_Positive Control_v2

Download

Download

Download
Get in touch with our team of molecular biology experts for your requirement!  
Next-Generation Sequencing Services for SARS-CoV-2 Genome 
| | |
| --- | --- |
| | As COVID-19 continue to spread, there is a need to decipher the SARS-CoV-2 viral genome. Routine testing methods such as qPCR are essential for viral detection however, they are unable to detect the mutational changes of the viral genome which is constantly evolving. Next-generation sequencing (NGS) provides an effective high-throughput solution for not just screening multiple samples but also for genome discovery projects. |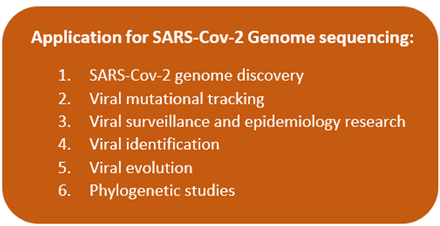 Our high performance and reproducible SARS-CoV-2 genome sequencing service adopts a Targeted NGS approach with the ARTIC network panel and is a valuable tool to accurately sequence the SARS‑CoV‑2 genome for both detection and characterization of viruses. The service features and all-in-one package with a fast turnaround time. Just submit your total RNA and let us help you with the lab component while you focus on the science!

Get in touch with our team of experts! 
Service Specifications
Product No

Description

NGS-1006

Sample Preparation


(i) Quantification of total RNA using qPCR from clinical sample
(ii) Amplification of pooled amplicons using ARTIC network v3 panel. Each sample will have 2x pooled amplicons.

NGS-4006

WGS Virus


Project includes:
- Sample QC
- Library preparation using IDT DNA Lotus DNA Kit from pooled amplicons of Artic network v3 panel
- Illumina MiSeq 250 PE run
- >200 sequencing coverage per sample

NGS-0106

Standard analysis WGS Virus

Standard Bioinformatics Analysis (Re-sequencing) included: -
1) Data quality control: filtering reads containing adapter or with low quality
2) Alignment up to 2 reference genome only with SNP/ InDel calling, annotation and statistics
3) De novo assembly to assemble contigs and identify the drop out regions from ARTIC networks (if there is any)
Bioinformatics Pipeline: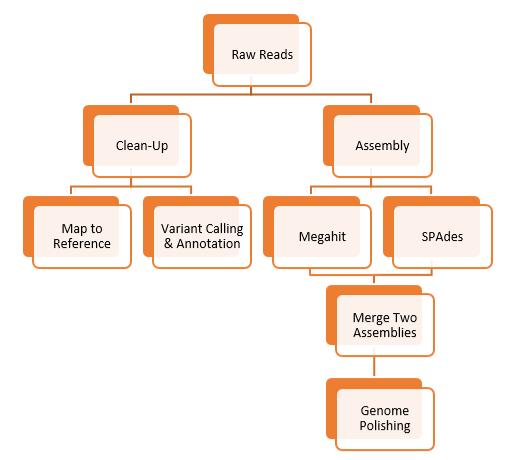 Snippets of Analysis:


Figure 1: Sequence alignment of two genomes with reference NC_045512. Line within the block shows nucleotide variant. Information of all the variants will be provided in deliverables. Example of the first four variants are as tabulated in the figure above.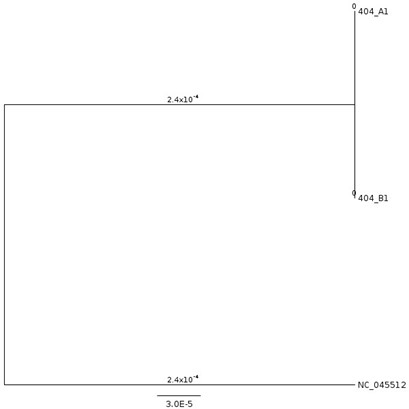 ​Figure 2: Relatedness of the two genomes rooted using the reference genome.

Figure 3: Assessment of the polished genome after De novo assembly. Figure shows high quality genome assembly.
As facilities race to ramp-up capacity, supply shortages, not just personnel and lab space shortages, have waylaid some testing efforts.

Let us help you with the processing steps of your COVID-19 experiments.  

Get in touch with our team of molecular biology experts for your requirements! 

All-in-one Solution: Samples to reporting

Maximise resource efficiency: 

Saves you precious time to focus on important issues

Quality You Can Count On: Robust Protocols That Ensure Superior Data